So you have probably noticed, I have been somewhat MIA these past few months, well it was with good reason. In May, I came out of 'Pageant retirement" and competed for the title of Mrs. Florida America. I had been 1st runner-up in 2011 and had always wanted to give it another shot, but timing was everything and this was the year. Well, this year I won and I have spent the past few months preparing for the Mrs. America Pageant. I knew I had to go in fully prepared and with no regrets, so this meant putting my personal blog on hiatus as I prepared. Competing at the national level at 43 is no easy task. Combine that with being a full-time working mom of a toddler, meant personal time was non-existent.
Before I tell you how I did, let me tell you about the experience. I was lucky enough to spend a week at the fabulous Westgate Resort and Casino in Las Vegas. What's more, I got to share that time with 51 of the most beautiful, intelligent, accomplished, and amazing married women from across the country. 51 women who started out as perfect strangers to me but rapidly became 51 sisters and 51 best friends. Each woman had to win her State title and then one lucky 1st runner-up won the last spot in the National 1st Runner-up competition through online voting.
I am beyond honored to have had the opportunity to represent the great State of Florida at Mrs. America. The week I spent competing was a once-in-a-lifetime experience that was filled with love, lessons, laughter, tears, joy, pride, and EXHAUSTION (mental and physical). This meant waking up at 5am for a 5:45am hair and make-up call to be "pageant ready" by 8am rehearsals EVERYDAY. This may sound fun, but I assure you it is not and I have not put on make-up since returning.
Mrs. America is the premier pageant for married women—it is the best of the best and so is everyone associated with the organization. Our "class" was diverse, unique, and strong. We had professors, doctors (including an N.D. — my beautiful Mrs. Ohio), nurses (like my girl Mrs. Montana), a chiropractor (love you, Mrs. Oregon), a school counselor (my roommate Mrs. Louisiana), business owners, nonprofit directors, artists and captains of industry. Every contestant had a story to tell and they told it with honesty and humility. Every contestant has become a champion of not only their individual platforms, but for the Mrs. America platform, "Victoria's Voice".
My eyes teared up when I learned what was in the hearts of all of my new sisters. Emotional stories of strength in the face of adversity. I will never forget Mrs. Maryland's fierce advocacy for her three-year-old daughter who has Down's Syndrome. I got to meet that precious little girl and get a kiss from her!! Mrs. Minnesota shared her family's recent tragedy—a beautiful young life lost to the drug epidemic plaguing our nation and my heart broke for her. I cheered with Mrs. Nebraska when she announced her sister's 62 days of sobriety! Mrs. Colorado and Mrs. Wyoming were honored for their USAF service and I was so proud of them all I could do was stand there in awe. Stories of breast cancer survival, chronic debilitating pain, mental health issues, deployments, discrimination. Stories told without even a hint of complaining—these stories were being shared because all of the contestants, myself included, want nothing more than to help others navigate the stormy waters we have all sailed.
I learned a lot about my sister queens that week, but I am most grateful for what I learned about myself. No, I didn't win, but I did make the Top 5. I know I represented my heart and home with my own unique blend of grace and grit. I made my directors, family, and friends proud. I'll call that a success!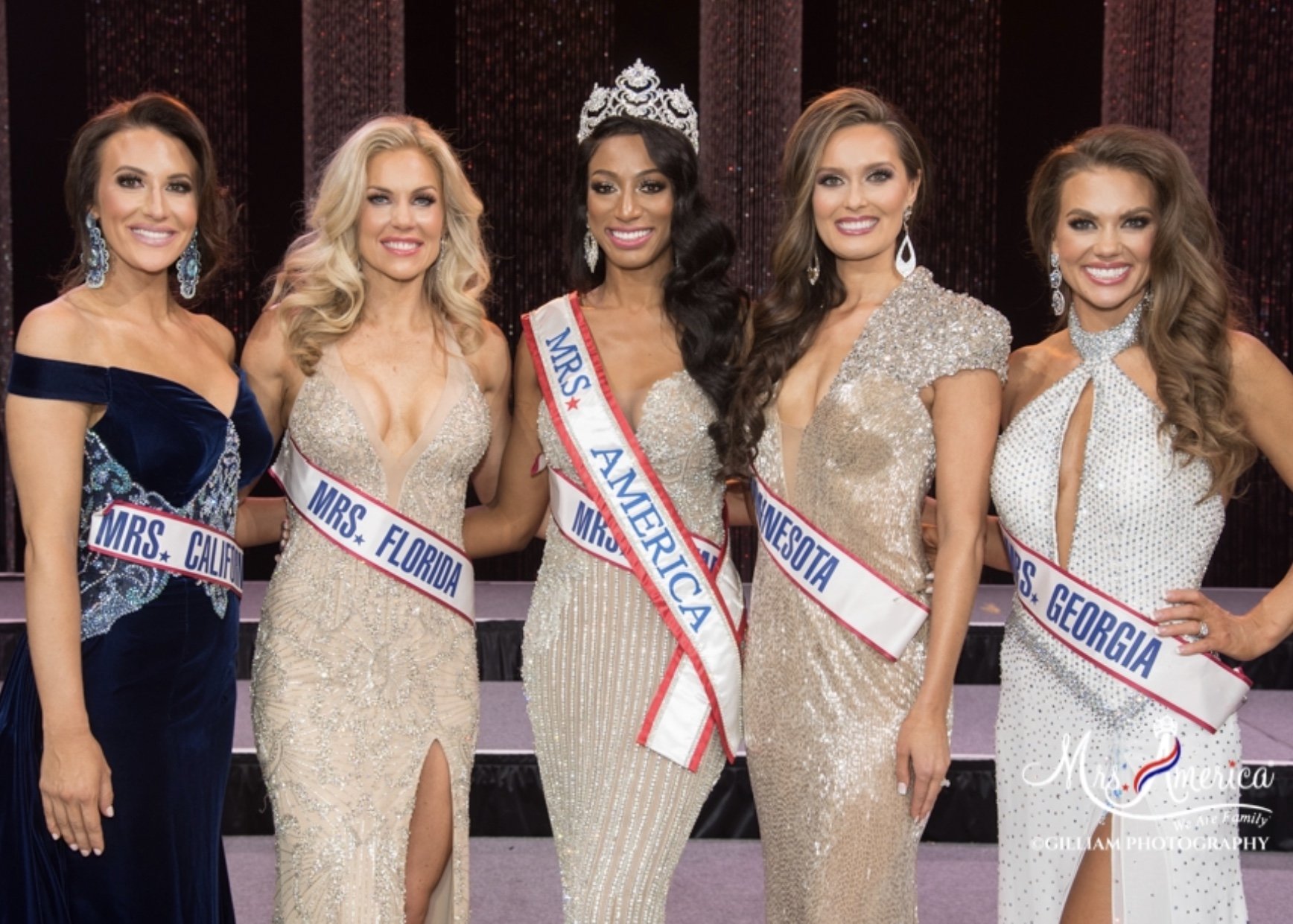 I never expected even a fraction of the love and support I received during this journey and I am forever grateful. I look forward to spending the rest of my reign continuing to advocate for Fertility Within Reach and Baby Quest Foundation, so that other couples faced with infertility can find their miracle. Many congratulations to Natalie Winslow of Nevada, our newly crowned Mrs. America. I cannot wait to see what you accomplish this year and represent our class at the Mrs. World Pageant.