So yesterday morning, we were up bright and early again for our second round of Early Morning Magic, this time in Toy Story Land. We decided it would be easiest to drive to the park rather than wait for the bus and we were on the road at 6:50am. We got to Disney's Hollywood Studios At 7:04am and were inside the park at 7:12am. We had the option to go and get something to eat first, but the Land was already open and rides were being ridden.
Our first goal was to do the Meet n Greets first, however I had heard the characters did not come out until after 7:30am. Since it was about 7:20am, we decided to squeeze in a quick ride on Alien Swirling Saucers. We were done by 7:25am and I was the first person in line for Woody & Jessie at 7:26am. They came out at 7:32am.
We were done by 7:34am and then headed to see Buzz near the entrance. His line was moderate, but I didn't want to risk it getting longer later. It fluctuated throughout the event, but was never very long. We got in line at 7:35am and were done at 7:42am. At that point we took some photos in front of the Toy Story Land Sign as there was no wait.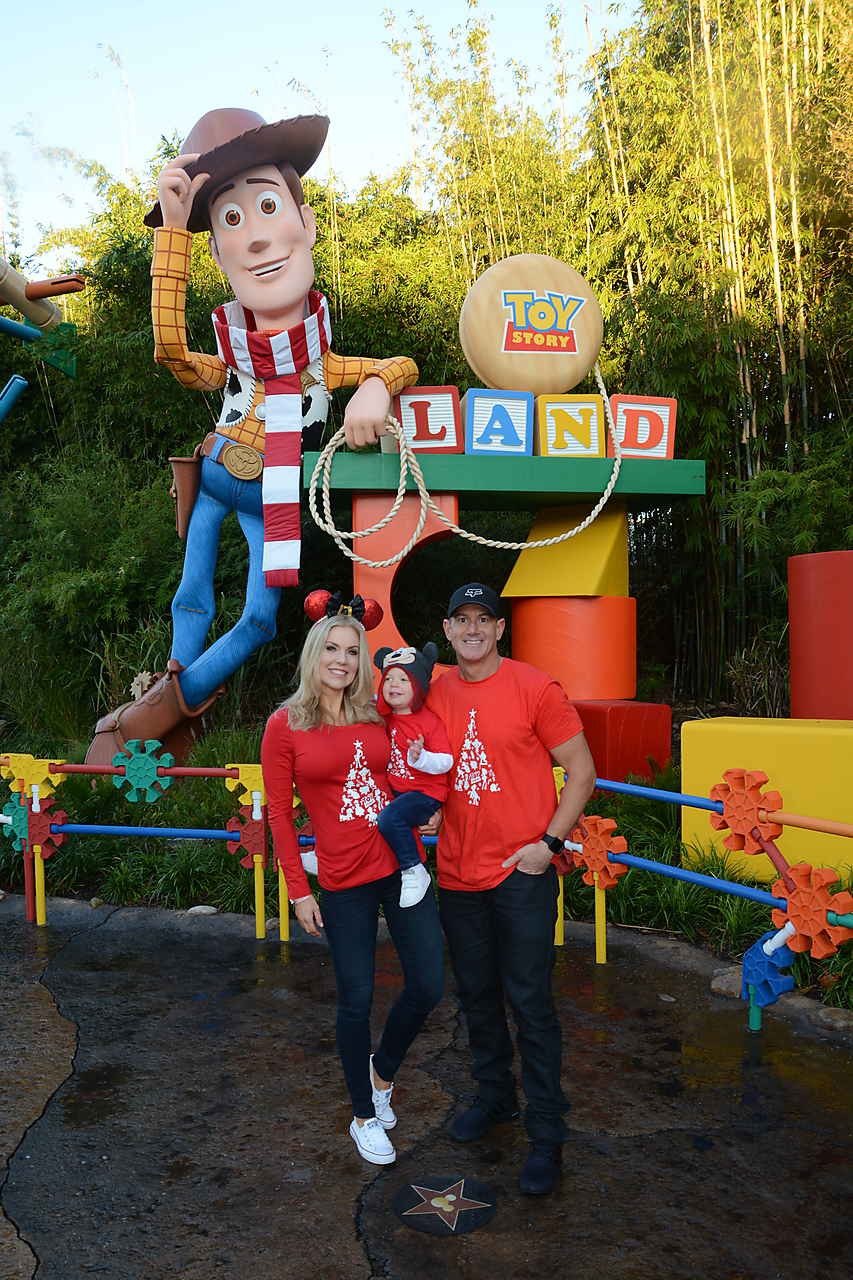 Next up, Toy Story Mania, mainly because it was 41 degrees and we both wanted to warm up a bit. Here they had the regular standby queue open. This was great for us because we wanted to see the return of Mr. Potato Head. We started walking through the queue at 7:49am and got to see Mr. Potato Head at 7:50am. We took our time and let our son enjoy seeing him and let others pass us. Finally, we were back on our way and on the ride at 7:53am. We finished at 7:58am and decided to go for Round 2, mainly because it was so nice and toasty inside. We did have to exit and walk all the way around and back through the queue, which was a little annoying but not a huge issue. We entered at 8:04am and we on the ride at 8:09am, again stopping to interact with Mr. Potato Head. We were off the ride at 8:17am and then casually headed to Alien Swirling Saucers and entered the line at 8:23am. We were on at 8:26am. After that ride, my husband stayed on with my son and I headed to Slinky Dog Dash. The sign said 20 minutes at 8:29am, however by 8:37am, I was boarding.
I exited at 8:40am and then took my son on another ride on Alien Swirling Saucers while my hubby rode Slinky. By 8:47am, we were meeting back up with my hubby and headed out of Toy Story Land. At 8:50am, we saw the rope drop crowd being led into the land. Now I have been part of the rope drop crowd too many times to count, but to see it on this side was pretty incredible. I was very happy we didn't have to be a part of this crowd to enjoy the land.
Next up was Mickey & Minnie, for which we were first in line. By 9:06am we were done and decided to head to breakfast as we were all pretty hungry. In fact, I was so hungry, I forgot to take pictures. However, the food was all great. My husband especially loved the shrimp and grits. I just wish they had bacon…I love bacon. LOL
All in all, I think this version of Early Morning Magic is fantastic. We have visited the land previously and it was nice to be able to explore without huge crowds. Having the characters out also was a huge plus for us, as this is a huge priority. We were able to knock them out pretty quickly and then move onto the attractions. If meeting the characters are a priority, get in line early, as the line for Woody & Jessie got quite long.
To book Early Morning Magic – Toy Story Land go to: https://disneyworld.disney.go.com/dining/early-morning-magic-toy-story-land/
Below is a video of our Early Morning Magic morning: